Temeka Johnson has a new goal in mind, and it has nothing to do with winning another WNBA championship.
Earlier this month, the Phoenix Mercury point guard released her first children's book, and the proceeds of what will ultimately be a three-part series will go toward funding her foundation. Johnson co-wrote the book, "Meek Moments: Decisions, Decisions, Decisions," with Quency Phillips, her manager.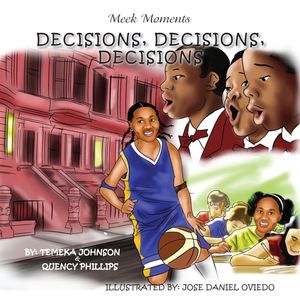 Courtesy Quency Phillips
"It started out with me wanting to do a biography of myself, but I knew how long that would take. Then Quency said how about we start it in the form of a children's book? It made more sense to start it in the form of the children's book," Johnson, 27, said. "Kids are faced with many more decisions than we are. The way that society is changing and the way it's going, they're faced with decisions a lot earlier than I had to face."
Mostly, Johnson says she's concerned that kids today don't have what she had: a loving grandmother and other family members around to care for them.
"Parents are younger, grandparents are younger, and sometimes kids are faced to make decisions for themselves," she says, ticking off issues that made her want to write the book and create a foundation. "They're look at TV as examples for leaders and thing of that sort. I see it every day when I go to different cities and when I look at my own family. It saddens me to see that the kids of today are sometimes raising each other."
In an effort to thwart that a bit, she's founded Meek's HOPE.
"It's basically just giving back to underprivileged kids. But that's the scholarship part and that comes from my passion for kids. But hope comes in so many different sizes, shapes and forms. On any given day, somebody may just need a hug or a smile. I was always told from a young age that playing a big woman's game, I bring so much hope to young people," the 5-foot-3- inch point guard said. "I thought that the word 'hope' was so fitting for what it is that I was trying to bring to the world. People inspired me more than they thought I was inspiring them."
The book is a fictionalized version of a younger Johnson, and the protagonist has decisions to make about prioritizing, something that Johnson says she learned from her grandmother, Jewel Johnson, who was a mother to her own seven children and Johnson.
"I made it work by any means necessary; it carried over into me. I never settled for anything and I always pushed forward. I never had a pity party. I knew things were going to come my way and I watched my grandmother do it for many years," she said. "It carried over for me throughout life and on the court."