It's rare that sports fans are privy to first-hand accounts of athlete drug tests via traditional media channels. But on Twitter, Lance Armstrong has often grouched about the frequency in which he's been tested.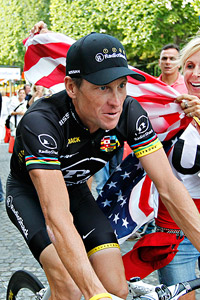 AP Photo/Eric GaillardLance Armstrong let his followers know how upset he was before the Tour de France.
"Pull up to the hotel and drug testers waiting," he wrote on June 22, while previewing courses in Europe in anticipation of last month's Tour de France. "Two agencies as well! AFLD and the UCI. Nice communication guys."
And leave it to social-media extraordinaire Chad Ochocinco to give us another first-hand account from NFL training camp.
The Cincinnati Bengals wide receiver tweeted this photo of a note taped to his locker, alerting him to the fact he had been selected for a random drug test on Tuesday.
But in typical Ocho fashion, he talked up himself in the process.
"Why does the NFL continue to test me, all I do is piss excellence for them each time," he tweeted along with the photo.
Font of material
Shortly after "The Decision," Cleveland Cavaliers owner Dan Gilbert released a scathing letter on the team's website blasting LeBron James.