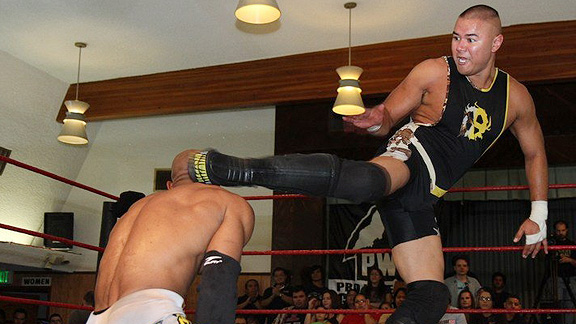 Courtesy of Devin Chen Scott Lost was a wrestler in Southern California before becoming a cartoonist.
SAN DIEGO -- Scott Lost is trading pins for pens.
Last month, the 30-year-old San Diego native closed the book on a decade-long professional wrestling career that included founding a federation, facing off against childhood idols and traveling the globe. Now, Lost begins a new book -- literally.
Lost, who is pursuing a career as a comic book artist, provided art for, fittingly, the wrestling-themed comic Headlocked," which was distributed in July at ComiCon in San Diego.
His wrestling persona, Lost said, finds its way into his artwork.
"The characters I've created are just like my wrestling character in the fact that they're all a part of my personality," he said. "Each represents different ways my brain thinks or acts, things I've wanted to do or things that I have done. It's a bit of a detective story, a bit of everyday life."