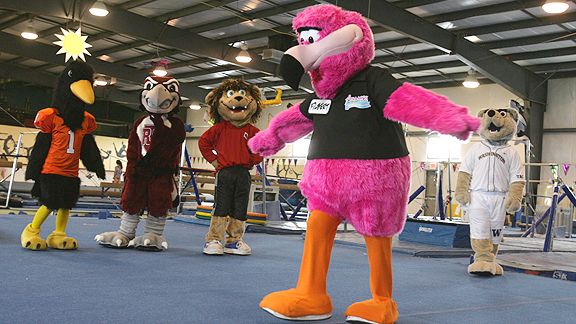 AP Photo/ Rick SmithPage 2 needs some help finding the worst mascots in college sports.
Mascots.
Come on, if we want to celebrate the start of the college football season, what better way than by creating a top 10 list of mascots?
(Well, actually, a list of cheerleaders would probably be better -- but you can find those lists everywhere. We just Googled "cheerleaders" and Google said we got "about 11,400,000 hits." There are so many cheerleader photos out there that even Google has lost count.)
Mascots are fascinating. While some are actually animals, such as Georgia's bulldog, Colorado's buffalo and LSU's tiger, most are humans sweltering inside strange and probably smelly costumes. Unless you hope to end up at Disney World dressed as a chipmunk, it is an odd way to go through school.
And some mascots are far worst than others, which brings us to your task this week. We want to create the definitive "Top Ten Worst Major College Mascots" list. And by "major," we mean let's contain ourselves to mascots for schools that play Division I football. We might have said just BCS schools but Buster Bronco from Boise State would sue us.
So no Banana Slugs please -- but that leaves a whole lot of other mascots to make infamous by being on this list.
And we want a short (emphasis on "short'') reason why your choice deserves to be on the list. Preferably snarky and funny. Mascots are fair game -- take your best shots.
As usual, please include your first name, the initial from your last name and your location. Send entries to osogreene@aol.com by noon Wednesday and look back here for the list on Thursday.
The worst mascot in college football?
You tell us. Who's just weird?