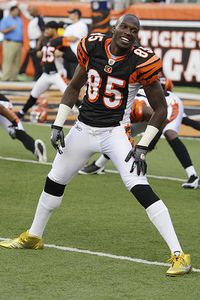 AP Photo/Al BehrmanChad Ochocinco was all smiles before Friday's game. Today, not so much.
Cincinnati Bengals wide receiver Chad Ochocinco was fined $25,000 Tuesday for violating two NFL game policies -- possession of an electronic device and posting messages on a social media site -- during the Bengals preseason win over the Philadelphia Eagles on Friday.
Two messages appeared on Ochocinco's Twitter page during the prohibited period for players to be using social media, which begins 90 minutes prior to kickoff and lasts until post-game media obligations are fulfilled. One Ochocinco message appeared at 6:50 p.m. ET and the second at 9:53 p.m. ET. The game kicked off at 8:07 p.m. ET.
At 6:50, he tweeted: "Just talk with Kelly Washington, Desean Jackson, Geoff Pope, Hank Baskett and I caught a ball from Mike Vick, I love prw-game warm up."
At 9:53, he tweeted: "Man Im sick of getting hit like that , its the damn preseason [expletive]! 1day I'm gone jump up and start throwing hay makers , #Tylenolplease"
This afternoon, Ochocinco tweeted an apology: "Dear NFL I apologize for tweeting during the game but that was 2 monthsof my Bugatti payments you just took from me,I won't do it again"