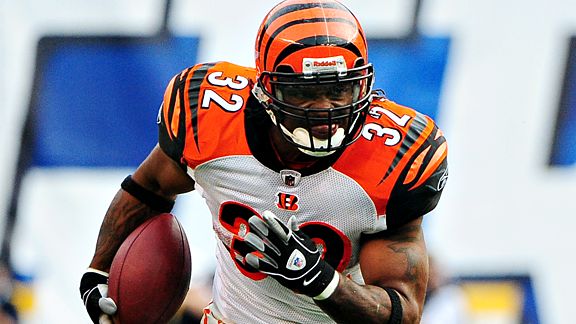 Kyle Terada/US PresswireFrom the glare of "Friday Night Lights" to the spotlight on Sunday, Cedric Benson has seen it all.
Cincinnati Bengals running back Cedric Benson joined Rich and Robert on KILT in Houston to talk about life with Terrell Owens, the real "Friday Night Lights" and wraps it all up by giving Reggie Bush a little advice.
On what camp has been like with Terrell Owens:
"It's been pretty good. A lot of hard work as usual. But we have had a lot of fan support in regard to Chad (Ochocinco) and TO (Terrell Owens). It helps the organization and it's a wonderful thing ... Many of the guys that are here, who have been here, who have played with this organization for the past four or five years are kind of used to it. They are used to the hype that comes with TO and Chad. Everybody's handling it pretty well. We're quite focused in."
On his memories of playing high school football in Midland's Lee High School (which is featured in "Friday Night Lights"):
"What a true, true blessing. What a true joyous experience. When I look back on that stuff, I had the best high school any kid could ever dream. (Host: Is "Friday Night Lights" accurate?) No. Way more intense. Way more fun."
On if the Bengals are a Super Bowl contender:
"We are definitely working to get there. I never believe in putting all your eggs in one basket or shoving your foot in your mouth. But I do believe in working to get there. We are honing in on the small things that make a big difference in those seconds in a game or those moments in a game when you look back and say, 'Gee guys, only if ... '"
And on if he thinks Reggie Bush should give back the Heisman:
"He earned it ... You still have to give the man the respect. He definitely earned the trophy."
• Click here for a transcript of highlights from the interview