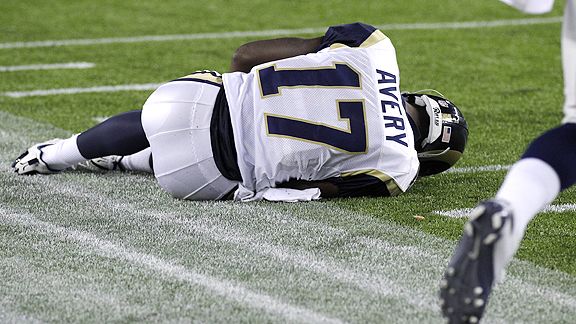 AP Photo/Charles KrupaFantasy football owners, it's important to keep track of every injury. Sorry, Donnie Avery.
Something has to be done about NFL preseason games. Not because the games are boring. Not because of the risk of injury. (Sorry Donnie Avery.) The NFL preseason has to be shortened because it warps the minds of fantasy football owners.
So we at Page 2 have put together a preseason guide for fantasy football owners.
1. Don't pay attention to final scores. Peyton Manning would throw an Oreo lick race against Eli before he let the Packers beat his team by 35 when it counts like they did Thursday. Final scores mean nothing in the preseason. The Rams beat the Patriots on Thursday as well. Like that's going to happen when it counts. Of course fantasy owners normally only care about individual players, but final scores reflect on the defense. How many of you thought twice about drafting the Jets D when the Giants hung 31 on them last Monday?
2. Don't watch the second half. The starters don't see a whole lot of playing time in the preseason. But instead of quitting after 15 or 30 halfway decent minutes, greedy owners insist games go the distance. The danger to fantasy owners is in evaluating a starter when the rest of the guys on the field are scrubs. It's easy to be fooled when a No. 1 is dominating free agents, rookies and guys who are about to be trying out for the UFL. Turn it off at halftime.
3. Don't get excited about no-names. Everyone wants to be the fantasy owner who has inside information. If you haven't heard of a player before some "breakout" preseason game, keep his name off your draft board.
4. Take note of injured starters. With a solid month between the first preseason games and the regular-season opener, it can be easy to forget who's been injured. So when watching exhibition games, make a note on your draft kit so you're not the person who drafts Donnie Avery despite the fact part of his ACL is still on the field in Foxboro.