By now, we all know that Stephen Strasburg's rookie season is over and his final line is a 5-3 record, 2.91 ERA and 92 highly celebrated strikeouts in just 68 innings.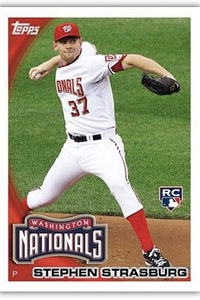 Courtesy of Topps It's hard to say how much Stephen Strasburg cards will be worth when he returns.
But those aren't the statistics that show just how big of an impact he made in the majors this season. After all, there are pitchers with more wins, lower ERAs and even more strikeouts at this point.
The telling stats are what you see when you examine the sales of his baseball cards.
Since Jan. 1, more than $1 million has been spent on Strasburg cards, according to sales data tracked by Beckett Media -- $1,010,703.99 to be precise. In that time, Beckett has documented 15,185 sales of Strasburg cards, and eBay auctions have totaled 113,278 bids with an average sale of $66.56.
That's a lot of demand for a rookie's cards, something not seen in years -- if ever.
Before Strasburg made his first big-league start, his 2010 Bowman Chrome SuperFractor, a card so rare just one serial-numbered copy was printed, sold for a SuperFractor record $16,403. The card, which garnered national attention, was re-sold again in July for $21,403.
What makes these sales numbers even more interesting? Strasburg appears on just 151 different cards (all made in varying quantities). For comparison, Derek Jeter has 12,283 different cards, though they've been rolling off the printers since 1992. It's easy to sell a lot of cards money-wise when there's so much to choose from and there's plenty of volume.
Ironically, the most prestigious (and likely most expensive) cards of Strasburg coming from Topps, the lone licensee of MLB-approved cards, have yet to arrive this year. The company's popular Triple Threads set will include cards that are autographed and feature patch pieces from one of Strasburg's game-used jerseys. It arrives in hobby shops on Sept. 22.