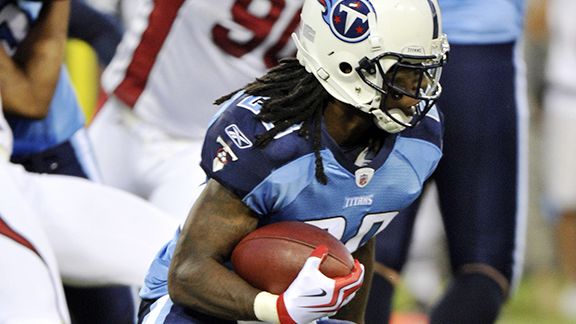 AP Photo/Frederick BreedonChris Johnson is the No. 1 fantasy football pick in most drafts. Can he have a repeat season?
What do we love most about fantasy football? There's the camaraderie, sharing a common interest with good friends. There's the thrill of victory and the agony of defeat. But most of all, there's the chance to look smarter than everyone else.
I know more about football than you do. That's what it really is all about.
Fantasy leagues all across the land are having their drafts now. Reputations are being put on the line. And one of the hottest cottage industries in sports is providing advice for those fantasy football players who are not quite as confident in their own opinions as they would like us to believe.
ESPN, of course, is here to help. But (gasp!) even our experts can be wrong. And that's what we're here to find out. Our best minds conducted a mock draft that you can find here.
Who blew it? That's what we want from you. Which one of these players is going to be a gigantic bust, whether because of injury, weakness of their teammates, stupid coaching, or because they're not really as good as we think they are? Send your pick for "Fantasy Football's Biggest Bust of 2010" -- with a brief explanation of why your pick will fail -- to osogreene@aol.com. As always, please include your first name, initial of your last name and your location.
Just to get you going, here are my thoughts on the ESPN Top 10:
1. Chris Johnson -- You're chasing a winner. He was last year's sensation and they will run him into the ground this year.
2. Adrian Peterson -- Will be run out of town when his failure to block gets Brett Favre beheaded.
3. Maurice Jones-Drew -- Come on, people. It's Jacksonville.
4. Ray Rice -- Ladies and gentlemen, your Super Bowl MVP.
5. Steven Jackson -- Should sue for non-support.
6. Michael Turner -- Could move up into top five.
7. Andre Johnson -- Will catch and catch and catch some more.
8. Frank Gore -- Soft, soft schedule will set him up for greatness.
9. DeAngelo Williams -- What?
10. Rashard Mendenhall -- For first month, who's there to hand him the ball?
See? It's easy to have him opinion. We want yours. Every year the "experts" are totally wrong about someone. You tell us who it will be in 2010.