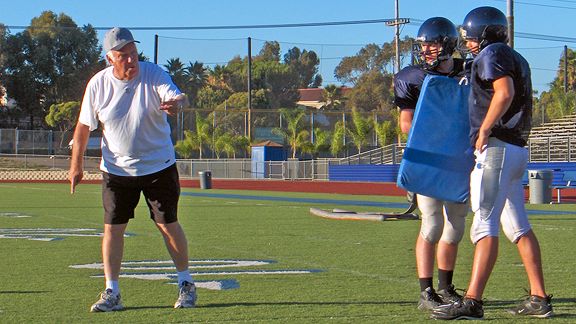 Gideon Rubin John Robinson has decided to coach high school football to be closer to his grandchildren.
SAN MARCOS, Calif. -- The second of San Marcos High School's two-a-days is set to start under a scorching, late-afternoon San Diego County sun, when John Robinson emerges from the "Blue Barn."
He's a bit more stooped and graying than you might remember, but, yes, it is that John Robinson, the man who took the Los Angeles Rams to two NFC Championships and who led USC to a shared national championship. Robinson, now 75 and out of football since 2004 after a stint at UNLV, calls a 600-square foot prefab shed his office.
Until now, Robinson had never coached high school ball. But earlier this year, he signed on as the defensive coordinator at San Marcos, where he can get back to the grass roots of coaching.
"We have everything we need [in the Blue Barn]," Robinson said. "They have computers and high-tech tools [in college and the NFL], but it's the really the same thing. Eventually, it has to come up on a screen and somebody has to take a look at it and make a judgment on what they see and explain it [to the players]."
Robinson said he took the gig because he wanted to give back to the sports community in which his two grandsons, Johnny Jay and Tyson McWilliams, 13 and 9, are involved. They play youth basketball and Pop Warner football. Johnny Jay will be a San Marcos freshman next fall.
San Marcos, a perennially down program in one of the most competitive high school sports regions in the nation, isn't the type of program where John Robinsons typically surface. Players acknowledge that college scout sightings at practice are a rarity, usually the result of a missed turn on San Marcos Boulevard.
But Robinson isn't here for glamour and glitz.