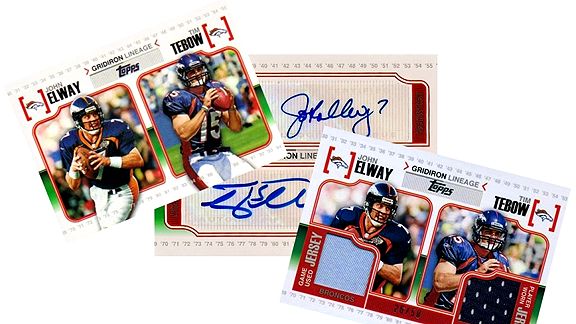 Courtesy of Beckett Media Denver Broncos legend John Elway is joining new Bronco Tim Tebow on a trading card.
Legendary Denver Broncos quarterback John Elway has appeared on 5,182 football cards since his landmark Topps rookie arrived in 1984. But it's three cards that came out just last week -- 26 years later -- that have football collectors buzzing.
They're the ones from 2010 Topps that Elway shares with Tim Tebow.
Dubbed "Gridiron Lineage," the star-studded pieces of cardboard successfully pair Elway, once the most scrutinized human being in the Rocky Mountains, with Tebow, currently the most scrutinized human being in the Rocky Mountains.
And the pairing is perfectly fine with Elway, the two-time Super Bowl champion, NFL Hall of Famer and unofficial king of the mountains in Colorado.
"I actually saw the card and I'm happy to share it with him," Elway said Monday morning, a day after Tebow threw his first NFL touchdown pass in a preseason win over the Pittsburgh Steelers. "Tim is just starting his career but I like what he's about so I'm honored to share a card with him. Hopefully that card becomes very valuable in the future and he goes on and has a great career."
There actually are three versions of the card, including one embedded with pieces of jersey worn by each player and one that includes both of their autographs. A copy of the double-signed version sold online last week for more than $256.