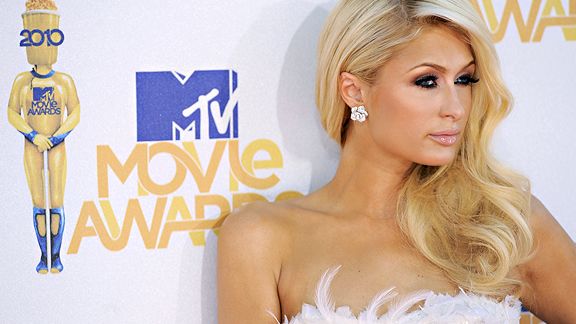 AP Photo/Chris PizzelloCongats, Paris ... you've taken a page from some of the sports world's greats.
In claiming that the cocaine that allegedly fell out of her purse in view of police wasn't hers -- either because: a) the purse belonged to a friend; b) a powder lovin' friend borrowed the purse -- Paris Hilton isn't just channelling the twin spirits of Shaggy and Blaxploitation film icon Dolemite. That [expletive] ain't mine! She's also mounting a time-honored legal defense used by numerous athletes, one rooted in the legal principle of duo non possunt in solido unam rem possidere. (Loose translation: that [expletive] ain't mine!)
Page 2 takes a quick look at some previous drug cases and claims:
Carmelo Anthony
Denver Nuggets forward was charged in 2004 with possessing less than one ounce of marijuana after the drug was found in Anthony's backpack prior to a team flight. Anthony claimed a friend and frequent house guest borrowed the backpack and left marijuana in it without Anthony's knowledge. When the friend signed an affidavit confirming Anthony's claim, the charge was dropped and Anthony avoided paying a $100 fine.
Michael Irvin
Former Dallas Cowboys receiver was charged in 2005 with misdemeanor possession of drug paraphernalia after police found a marijuana pipe in his car. Irvin first told police the pipe belonged to "his brother," then claimed on national television that he had compassionately confiscated the pipe from a friend who had just left a Texas drug rehab facility.
Josh Heytvelt
Gonzaga basketball player was charged in 2007 with felony possession of a controlled substance after police found psychedelic mushrooms in his car, as well as three muffins containing psychedelic mushrooms inside a backpack with "Battle in Seattle -- Gonzaga University" and Heytvelt's name and jersey number embroidered on the front. Heytvelt told police the mushrooms belonged to a friend who also had grown the mushrooms at Heytvelt's house; he later pled not guilty to charges and was placed in a court-supervised diversion program. The charge was dropped after Heytvelt underwent a year of drug testing and exceeded 240 required hours of community service.
Udonis Haslem
Miami Heat forward was recently charged with felony marijuana possession and possessing drug paraphernalia after police found more than 20 grams of the drug in his car during a traffic stop. Haslem's lawyer predicted his client would be cleared of any wrongdoing because a car passenger reportedly told police the drugs belonged to him. A hearing in the case is scheduled for Sept. 14.
JaMarcus Russell
Former Oakland Raiders quarterback was charged with possession of a controlled substance in July after undercover police found a bottle of codeine in his home. Though Russell previously admitted to ESPN that he used the drug -- the active ingredient in "purple drank" -- a friend of Russell's subsequently declared in court that the codeine in question belonged to him. Russell's friend was taken into custody, but a judge still sent Russell's case to a grand jury. The outcome is pending.