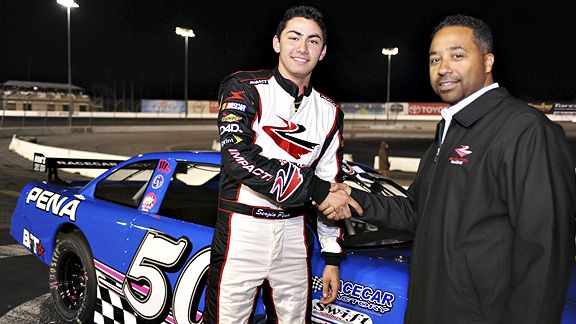 Photo courtesy of BETSergio Pena, a contestant on the BET reality series "Changing Lanes," shakes hands with Max Siegel.
A few years back, Max Siegel was the man to go to when it came to all things gospel music.
Now? He's all about diversifying NASCAR, and it's not exactly as far off the mark as you might imagine. Siegel ultimately became a high-powered music executive, but his roots are in sports law. The first firm he worked for represented the Seattle Mariners and sports radio stations, and at one point he was lawyer to Tony Gwynn of the San Diego Padres and Reggie White of the Green Bay Packers.
White, who became one of Siegel's best friends, was the one who introduced him to NASCAR. And even as Siegel was working to help cross gospel music over to a mainstream market, White was calling him every week telling Siegel he needed to get his hands on NASCAR.
"I thought Reggie had lost his mind," Siegel says, laughing at the memory. "Reggie is very, very persuasive and passionate, and so I started to take a look at it -- and candidly, at the end of his career when things were not going the way that he wanted, this was the only thing that got him excited. We wanted to buy a NASCAR franchise. The short version of the story is that that fell apart and Reggie passed away."
But now, Siegel is the man in NASCAR. And at 8 p.m. on Wednesday, a new docu-reality series premieres on BET, "Changing Lanes," that follows Siegel's search for the next great minority or female race car driver. The eight-episode series is narrated by rapper Ludacris, and the ultimate prize is a spot on Siegel's NASCAR Revolution Racing Team.
What made you want to get involved?
"I actually fell in love with the competition aspect of it, and I also felt like the industry as a whole could grow if the industry reached out to a more diverse demo."