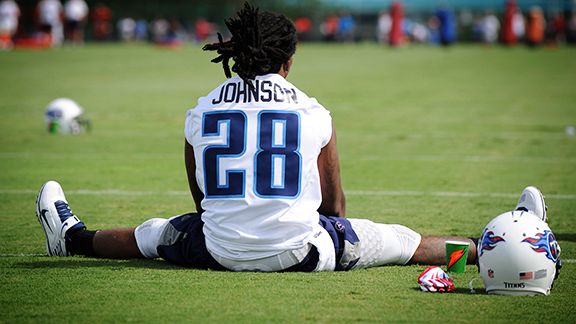 Don McPeak/US PresswireCan Tennessee's Chris Johnson replicate his 2009 performance? Page 2 readers strongly doubt it.
Want to know a common belief among fantasy football enthusiasts?
They think they're cursed.
When we asked who would be the biggest bust in NFL fantasy football this season, the answer we often got was "whomever I pick first."
It's understandable. Anyone who has played the fantasy game long enough has had a season when their first-round pick got hurt early (remember Tom Brady going down in the first game of 2008?) or otherwise vanished (remember Ricky Williams' lost season of 2004 when he "went back to school" at the California College of Ayurveda?).
When something like that happens, the fantasy football fan knows the only reason is because the injured or otherwise missing superstar is on his roster. The truth is out there.
Listen to Mark M. of Apopka, Fla., speaking for so many other snakebit fantasy owners:
"This year's biggest bust? That's easy. Chris Johnson. Why? Because I had the first pick in our draft and took Johnson. Poor guy. His knee doesn't have a chance. Most people know about the Madden curse and the Sports Illustrated cover jinx, but my curse is just as real."
If he's right, Chris Johnson is a marked man.
Not all of our votes were as personal as that, but all predicted disaster for one superstar or another. When we tallied the votes, here are the top (bottom?) 10 players that you may want to think twice or even thrice about before drafting:
Top 10 Fantasy Football Biggest Busts of 2010:
10. DeAngelo Williams, Carolina running back: "No QB and Jonathan Stewart always there to steal a TD or two. What could go wrong?" wrote J. Browning, St. Louis.
9. Peyton Manning, Indianapolis quarterback: "New rule that puts umpire behind QB is going to haunt Manning and hinder his productivity," wrote Bryan H., Torrance, Calif.