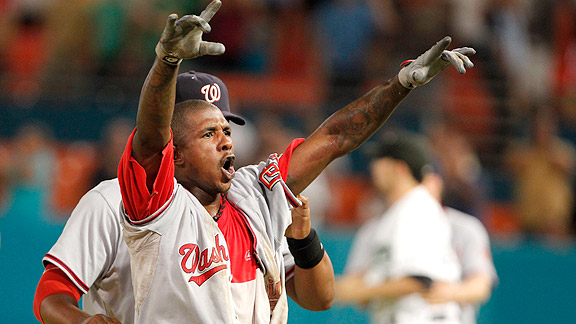 AP Photo/Wilfredo LeeNyjer Morgan didn't hesitate for a moment prior to charging the mound on Wednesday night.
At 6-foot, 180 pounds, Washington Nationals outfielder Nyjer Morgan is hell on Hot Wheels: a catcher-barreling, haphazard-ball-chucking, mound-charging dervish. A former hockey player -- Morgan played major juniors -- he headed to the mound Wednesday night against the Marlins like a man who's never worried about the third man in a fight. Right or wrong, he made the most straightforward trip to the mound since Dave Winfield rushed Nolan Ryan in 1980 (which left Ryan prepared for Robin Ventura in 1993).
That's pretty impressive for such an unimposing man. But we should know by now not to underestimate small guys. Not only do many of them know one or more of the martial arts, but they often have much to prove and are simply looking for the chance to do so. Remember that when you see these dangerous, diminutive dudes:
Calvin Murphy: Sports Illustrated asked if the 5-9, 165-pound former baton twirler was an "enforcer," then wrote, "Last November he got angry at Boston's 6'9" Sidney Wicks, leaped to grab a piece of Wicks' Afro with his left hand, and with his right howitzered Sidney's face into a bloody pulp." And there was a question?
Steve Smith: Last season marked the 5-9 Carolina Panthers receiver's second career suspension for an incident that ended with broken bones in a teammate's face. Second.
Pedro Martinez: Five-foot-11, 175 pounds, and totally averse to surrendering the inner half of the plate. Or taking any guff off the old folks.
Nate Robinson: From our Sports Guy on the 5-7 point guard and former college football player: "Nate Robinson is crazy. Just last week, he nearly got into a fight with Sebastian Telfair for the second time this season. He got in two separate fights with teammates last year, including a naked 'School Ties' type fight with Malik Rose in the shower." Rose, for the record, is a foot taller than Robinson.
John Stockton: For 20 years, the 6-1 Hall of Fame point guard stopped power forwards in their tracks with his screens. Whatever he was doing to defy the laws of physics was enough to keep us on his good side.