This week, reports indicate that the New Orleans Saints have asked Derek Fisher to address the team prior to its Thursday night season opener against the Minnesota Vikings.
Apparently, the Saints want Fish, a five-time NBA champion, to talk to the club about what it takes to repeat and get 'em amped. Fish: The Motivational Speaker -- he could really bubble in that role after he retires, maybe even snag a few engagements from Pat Riley or Colin Powell.
But, on the real, when it comes to his post-playing career, Fish has more than a few options.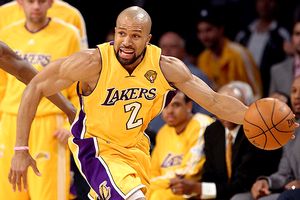 Christian Petersen/Getty ImagesShould Derek Fisher think about Pennsylvania Avenue after his run on Figueroa Street ends?
You see Fish breezing through his guest-host spot on "Jim Rome Is Burning" last week, trying to goad Kobe into some fighting words about LeBron James or Doc Rivers and you think: "Man, Fish is going to be a great on the mic or in front of the camera."
You see Fish patting Adam Morrison on the back after he clangs a garbage-time scoop shot and you think: "Man, Fish should be a coach." You find out Fish is the NBA players union's player president and you think: "Man, maybe he can Jedi the owners into avoiding a 2011 lockout."
We think Fish can go loftier, though. We're thinking politician. Not just mayor or governor or senator, but president. POTUS, baby. He's got the experience and talents.
Check it out. You've seen him on the podium after playoff games. He won't Sarah Palin an interview with Katie Couric. I watched him address approximately 100,000 people at the Los Angeles Coliseum to celebrate the 2009 NBA championship -- he'd kill it stumping on the campaign trail. His role with the Lakers shows he's not only a leader of men, but that he can also deal with prima donnas and hotheads, too. Rep. Joe "You Lie" Wilson (R-S.C.), White House chief of staff Rahm Emanuel nor anyone else in D.C. have much on Kobe.
He's prepared to handle angry town hall meetings because the good folks in Utah still boo Fish for leaving the Jazz for L.A., even though the move was motivated by his daughter's health-care needs. He doesn't cower from big moments. He's clutch. He's "0.4" clutch. That's presidential stuff right there.
So I'm calling it now: Fish for pres' in 2024.
Just don't pick Ron-Ron as your running mate, man.