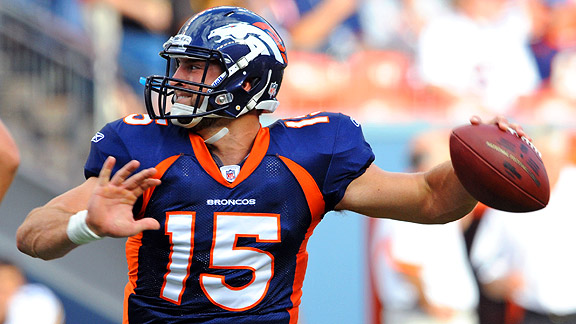 Ron Chenoy/US PresswireSay it slowly: Tim Tebow, future Hall of Famer. But stranger things have happened.
In response to the debate between Bill Williamson and John Clayton over how Tim Tebow's game will translate to the pros, David Fleming provides his own take.
I spent a good deal of time in April breaking down film on Tim Tebow and I kept coming back to the same two conclusions:
1. Good God, his throwing motion at Florida was so bad, I wonder how he even managed to stay upright in the pocket, let alone complete any passes.
2. Who cares?
Seriously, as a person and as an athlete there's only one way to describe the Heisman Trophy winner, two-time NCAA champ and Denver Broncos savior: a winner, through and through. So does it even matter that his technique is sometimes so awful he resembles a kinetic pretzel more than a QB?
There's little doubt that Tebow has flaws. But so did Jerry Rice, Dan Marino, John Randle and nearly every other player enshrined in the Pro Football Hall of Fame in Canton.
So, just to really mess with this debate, I've come up with a quick list 12 Hall of Famers who are proof that major flaws and NFL immortality are not at all mutually exclusive.
1. Emmitt Smith: A so-called recruiting expert named Max Emfinger once said Emmitt wasn't big or fast enough to play on the next level. Emfinger went so far as to call him a lugger, not a runner. Now, would I put Smith in my top five all-time greatest backs in NFL history? No. But I wouldn't exactly call him a lugger, either.
2. Gale Sayers: An All-American at Kansas, yes, but at 6 foot, 200 pounds some pro scouts questioned whether or not the speedster could hold up to the physical pounding of the NFL.
• Click here to read this entire Insider article by David Fleming