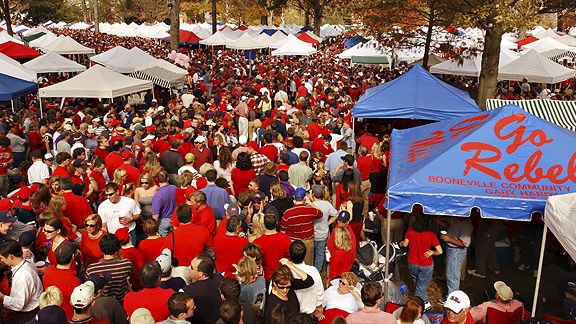 Photo courtesy University of Mississippi AthleticsThe deeper into The Grove one ventures, the more it feels like the entire state has come to party.
OXFORD, Miss. -- The Ole Miss campus speed limit remains a genteel 18 mph in honor of Archie Manning, but everything else in Oxford seems to be changing faster than Jeremiah Masoli's eligibility status.
In the months since quarterback Jevan Snead last took a snap for the Rebels in the Cotton Bowl and turned his attention to the NFL:
Mississippi football has gone from the SEC's upper division to expected also-ran.
The NCAA initially denied Masoli's request for a waiver that would have allowed the disgraced quarterback to play this season after he transitioned from sociology undergrad at Oregon to recreation grad student in Mississippi. Then the NCAA reversed itself. Masoli on Friday was cleared to play immediately.
And Ole Miss students voted to find a new mascot to replace the goateed, politically incorrect Colonel Reb -- who was banned from the sidelines of Vaught-Hemingway Stadium in 2003, six years after the waving of confederate flags was spiked -- as the school continues to distance itself from symbols of the Old South.