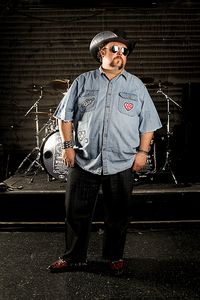 AP Photo/Josh AndersonCountry star Colt Ford has been around sports his life and even is a former pro golfer.
It's no surprise that when you record a song called "Left Y'All in the Dust (NASCAR song)", you'd be asked to perform at a NASCAR race.
So this weekend, upcoming country music star and Georgia-native Colt Ford will perform a concert before Sunday's Emory Healthcare 500 at Atlanta Motor Speedway. Ford adds country music flair to a brimming Labor Day weekend musical lineup that also features Foreigner and Drivin' N Cryin'.
Ford recorded the song "Left Y'All in the Dust" as part of a 6-song CD and DVD called Country Is As Country Does for Wal-Mart. He's touring now to promote his latest CD, "Chicken and Biscuits."
"I love NASCAR and really love performing live in front of NASCAR fans," said Ford, who has performed at tracks in Talladega, Ala., and Bristol, Tenn. "I've been around sports all my life. I just think it's the great thing in the world to be playing music and having the crowds sing along."
Ford is a former pro golfer and also has written a theme song for Professional Bull Riders.
"Things are great right now. It's always good to stay busy," said Ford, who plays three to four shows a week all summer. "NASCAR fans this weekend will be singing along to every word!"