We've seen plenty of Pamela Anderson through the years as she's appeared on the big screen in absolute classics like "Barb Wire" and "Scary Movie 3" along with small-screen staples like "Home Improvement" and "Baywatch."
We've literally seen Anderson everywhere -- on covers of magazines, in music videos, in her work for PETA, you name it. But we've never seen her in one place that's probably pretty familiar to sports fans.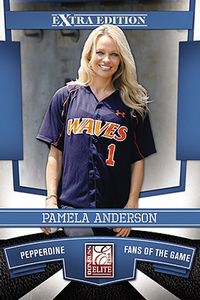 DonrussPamela Anderson is on a trading card. Yes, the Pamela Anderson.
On a baseball card.
Now you can scratch that one off the list, though, as the blonde bombshell will be included in the upcoming Donruss Elite Extra Edition baseball card set from Panini America, which arrives on Sept. 29. Why? She's a big supporter of the Pepperdine University baseball program, where she can be found in the stands watching the Malibu, Calif.-based Waves compete.
While Anderson having a baseball card should be a surprise for fans, it was a surprise for those involved with the Pepperdine program, too.
"I was excited to hear about the card," Waves head coach Steve Rodriguez said. "I thought it was a great idea."
Unlike other stars who are dedicated followers of sports programs who will appear on posters or other items to help promote the school, Anderson doesn't have much, if any, Pepperdine memorabilia because she prefers to be low-key in her support, according to Rodriguez.
"Pamela likes to do things without all the publicity," he said. "She is a huge believer in helping out people and functions in her community without the notoriety because she feels that what people should do."