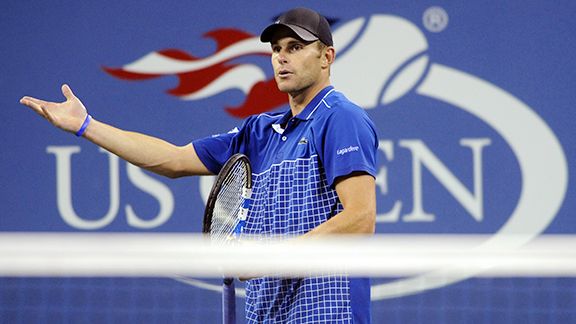 AP Photo/Henny Ray AbramsAndy Roddick was knocked out of the U.S. Open already but he still has his humor.
Andy Roddick's run at the U.S. Open didn't last as long as Roddick and fans would have expected. But like many athletes these days, his off-court activities are just as exciting as his on-court.
There's his super model wife, Brooklyn Decker. "I got the better half of that one," said Roddick at this year's BNP Paribas Taste of Tennis event in New York City.
There's his guest appearance on Terrell Owen's reality show, The T.O. Show (Season 2, Episode 7, for curious viewers), filmed when Owens visited him at the Miami Masters. Owens laments on the show how he's bummed Roddick can't party with him now that he's settled down. "That was the funny thing when I was watching it," Roddick said. "I'll still go out with him!"
And then there's his Twitter account, Roddick's open forum where his rarely shown wit shines through. So we decided to pick our favorites and ask him about them:
1. Retweet @darrenrovell1 Aug 23, 2010: Why does Tiger Woods' signature all of sudden look like it says "Single Dude"?
Roddick's explanation: "There's really no explanation for that. I just saw it, and I thought it was pretty funny."