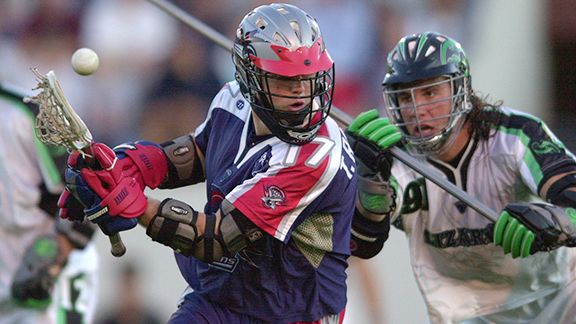 Ezra Shaw/Allsport/Getty ImagesBrian Spallina (right) heads back this week to teach elementary school on Long Island.
When school starts on Long Island this week, Brian Spallina will trade in his lacrosse stick for a ruler. Instead of throwing cross checks and accruing penalty minutes, he will correct journals and write subtraction problems on a blackboard.
And he'll trade in four-letter words for, well, four-letter words.
"It's like he suffers from multiple personality disorder. One moment he's normal, and when he puts on that jersey and grabs his lacrosse stick … look out," said Quint Kessenich, ESPN's lacrosse analyst and former Johns Hopkins goalie.
Such is Spallina's life. Often called a "maniac" on the field, when the summer ends, Spallina hangs up his dirt-stained Long Island Lizards uniform in favor of the more conservative get-up of an elementary-school teacher. It's a slippery slope for a guy who juggles two sometimes competing passions -- playing lacrosse and teaching.
"He totally clicks into a different mentality," Kessenich said. "He plays mean and angry, like he really doesn't like you at all. He steps on the field with an attitude, talking smack the moment he leaves the locker room. He can't be missed with his rock star hair hanging down his jersey and his black socks pulled up to his knees. If you had to create a cartoon character of what your goon defender would look like, Brian's image is what you'd use."