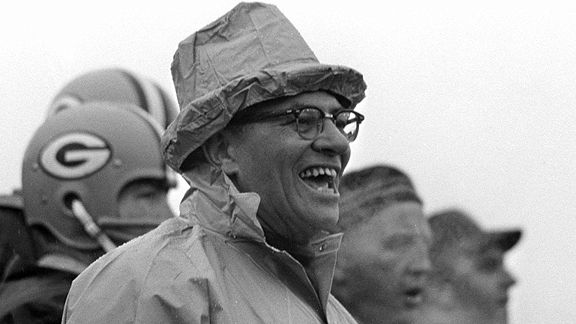 AP PhotoVince Lombardi was more master motivator than coaching genius.
Dan Lauria joined ESPN 980 in Washington D.C. with Steve Czaban and Andy Pollin to discuss why his lead role in the upcoming Broadway play "Lombardi", based on the David Maraniss' biography "When Pride Still Mattered: A Life of Vince Lombardi."
On him being a natural for the Lombardi role:
"I understood Coach Lombardi and I think he would've been happy that someone like me, who was born in Brooklyn, an Italian-American ... I think that was very important to Coach Lombardi. [I'm] very dedicated to our art and I think Coach Lombardi would've appreciated that."
On what he discovered about Lombardi in researching for the role:
"It wasn't that it was so much of a surprise, because being an old football player I had read all the books already. Re-reading them now ... kind of refreshed me on the stories. ... Basically what everybody agreed on was Coach Lombardi, who was a physics and chemistry teacher in high school for 10 years, a very bright young man, he simplified football. Sonny [Jurgensen] said he learned to read defenses so easily under Vince Lombardi because he simplified on what to look for in the defensive setups."
On whether the language in the play is family-friendly:
"You can take your young kids to it because what we considered a curse back then is not a curse word now. He didn't use any four-letter words. He said 'Damnit' a lot or 'Aw, jeez,' but he said it in a way that it might as well have been the worst curse words in the world. It's a matter of attitude more than language."
• Click here for a transcript of highlights from the interview