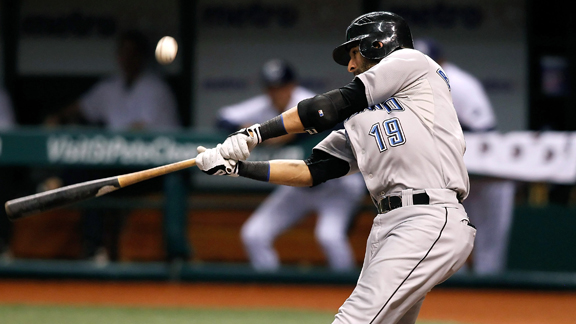 Getty ImagesJose Bautista leads the majors in home runs, but will he become one of baseball's Fluke All-Stars?
Jose Bautista leads the league in home runs. Think about that. If someone had told you in March that come September, Bautista would be light years ahead of the likes of Alex Rodriguez, you'd think you were dreaming. A journeyman role player with a legit shot at hitting 50 home runs?
Inevitably, the dreaded word "fluke" comes to mind. Surely, he'll come down to earth, the aliens possessing his body will leave, and fastballs will suddenly stop being attracted, as if magnetized, to the sweet spot of his bat at the ideal moment his violent swing crashes through the strike zone. We won't know for a while whether Bautista's season will turn out to be a fluke or simply his coming-out party, but he's hardly the first player to put together a dominating season out of nowhere.
To pick out the biggest flukes in baseball history, I took every season since 1900 (minimum 300 PA or 100 IP) and compared the rate stats of hitters and pitchers to the rest of their careers. So, who makes up the Fluke All-Stars?
Catcher: Rick Wilkins
1993 Chicago Cubs
Wilkins had a solid sophomore season in 1992, hitting .270/.344/.414 while splitting time with Joe Girardi. That was enough for the Cubs to leave Girardi exposed in the expansion draft, in which he was taken by the Colorado Rockies. Given the full-time job in 1993 at the age of 26, Wilkins hit .303/.376/.561 with 30 home runs. The Cubs were convinced they had a young star behind the plate, but in 1994 Wilkins fought the Mendoza Line in April en route to a .227 batting average. Wilkins lost his starting job in 1995 and was done as a full-timer in another year.
First base: Jim Hickman
1970 Chicago Cubs
At the age of 33, Hickman was firmly established as a decent fourth outfielder, with a career .236/.306/.395 line. Don Young was the Cubs' center fielder in 1969, but nobody in Chicago wanted anything to do with him after some terrible defensive play down the stretch, and Hickman started the season in center. Hickman hit .315/.419/.582 with 32 HRs and 115 RBIs for the Cubs, moving to first regularly after Ernie Banks started missing time due to arthritis. In 1971, Hickman promptly lost more than 200 points of OPS, and while still a valuable part-timer, never came anywhere near his 1970 totals again.
• Click here to read this entire Insider article by Dan Szymborski