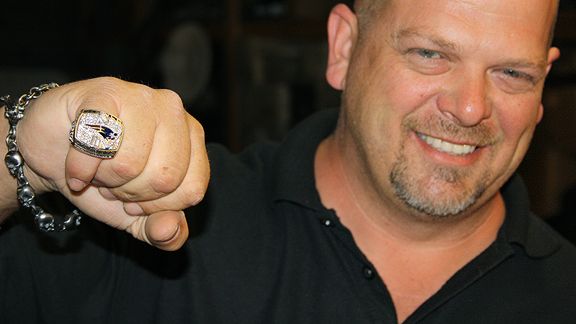 Laura Karaer"Pawn Stars" leading man Rick Harrison wears the New England Patriots' 2001 Super Bowl ring that used to belong to Brock Williams.
In the daily routine at his Las Vegas pawn shop, Rick Harrison ambles to his vault and takes inventory. He processes valuables cash-strapped folks deposited for collateral on loans. Whatever items are unclaimed after 120 days become his property.
In July 2006, he came across a sacred item abandoned.
"I actually made the joke that morning 'You know, one of these days I might open one of these envelopes and the Holy Grail's going to fall out,'" Harrison said.
What he came across that day was the NFL's holy grail, the object every player will pursue when the regular-season quest begins Thursday night: a sparkly Super Bowl ring.
A New England Patriots 2001 championship ring now sits in Harrison's mirrored showcase, but you don't need to drop by Gold & Silver Pawn Shop at 713 South Las Vegas Blvd. to check it out.
That ring is the centerpiece of the opening to "Pawn Stars," the History Channel's hit series about the day-to-day operations of Harrison's family-owned shop. The most prominent item you see at the top of each show is the bauble and its shimmering Patriots logo.