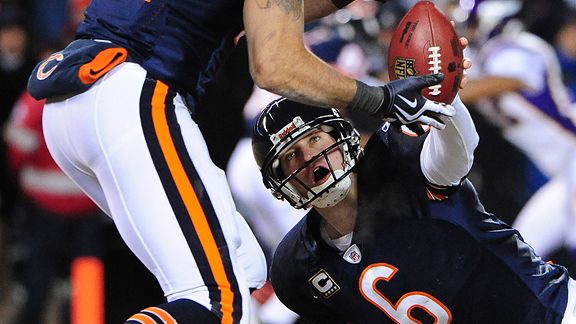 Kyle Terada/US PresswireWe're no experts, but it looks like Jay Cutler really needs to work on his mechanics.
The NFL season is upon us. Let's enjoy it because there might not be one next year.
In fact, let's just set the 2011 NFL season over/under at 0.5. And while we're doing over/unders let's take a look at the win totals for each team for this season, starting with the NFC.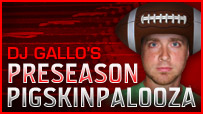 Arizona Cardinals: over/under 7.5
Under. A once-potent offense is down to pretty much just Larry Fitzgerald. The only way the Cardinals can possibly match their 10-6 record of last season is if Kurt Warner gets bounced early from "Dancing With The Stars" and returns to the team to feed his competitive fire. And considering Warner's DWTS competition includes Margaret Cho, Bristol Palin and Michael "The Situation" Sorrentino, it's unlikely he will be an early elimination.
Hmm. You know, the Cardinals should maybe look into getting one of those people to start at quarterback. I mean, all due respect to Sorrentino's abs, but when a team with playoff aspirations is starting Derek Anderson at quarterback, that's a true Situation.
Atlanta Falcons: over/under 9
Over. The Falcons are my pick for a surprise team in the NFC this season. I'd give you my reasons but that would ruin the surprise, wouldn't it? Plus, I don't really have any good reasons other than a hunch. And admitting that would just make me sound stupid.
Carolina Panthers: over/under 7
Under. "What are you talking about?! How can they get worse with Jake Delhomme gone? Of course their record will get better!" I disagree. I know, I know. It sounds counterintuitive. But if not having Jake Delhomme at quarterback was all that was needed to be successful, 31 teams would make the playoffs every year. The NFL isn't the NBA.