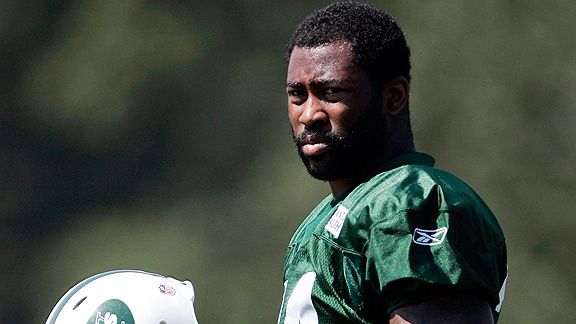 AP Photo/Rich SchultzDarrelle Revis -- and his whole island -- are back on the field for the Jets.
Darrelle Revis joined ESPN Radio New York with Brandon Tierney to discuss whether he was truly prepared to sit out the entire season, missing out on "Hard Knocks" and if he paid attention to people who publicly didn't agree with him.
On whether he was really prepared to sit out the whole year:
"Yeah, I think I was very prepared to do it, but I knew that it was going to be a tough task to do because I'm a football player and I love to play this game. Being away from it was probably what hurt me most."
On missing out on "Hard Knocks":
"It was very tough. I watched 'Hard Knocks' on and off. I couldn't watch it all the time because my feelings would get the best of me. One thing I tried to do was just stay away from Twitter, stay away from reading the newspapers, stay away from the Internet, just get all the media stuff off to where I can just focus on working out."
On whether he paid attention to those who chose sides in the situation:
"I mean it's kinda tough. You don't want the fans to get on your bad side, but I just think the fans probably just didn't understand the business side of it. The reporters, they can report anything, but if you really understand how the business side goes and the negotiations go, they would have a better understanding and know that what I was doing, I was doing for a reason. Not to be greedy or to bring all this limelight or distractions to myself."
• Click here for a transcript of highlights from the interview