When you played 16 seasons in the NBA and won seven championship rings, you did plenty.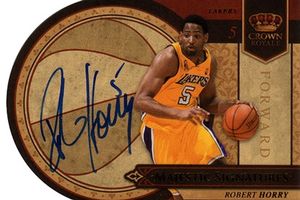 PaniniFor the first time, Robert Horry has signed his autograph to a trading card.
But there was one thing that Robert Horry never did during his pro career -- he never signed a basketball card featuring him in an NBA uniform for a trading card company.
Despite all those clutch shots that helped the Houston Rockets, Los Angeles Lakers and San Antonio Spurs win it all -- a few times -- there weren't any certified autographs (cards he was paid to sign that were then placed into packs) showing him in any of those uniforms.
But all that has changed.
Panini America, the lone licensee of NBA basketball cards, landed Horry for his first certified pro autograph in its new 2009-10 Season Update set, which recaps the year with players in their most-recent uniforms while ramping up for the new season with other interesting inclusions like Horry and the first LeBron James cards as a member of the Miami Heat to be found in packs.