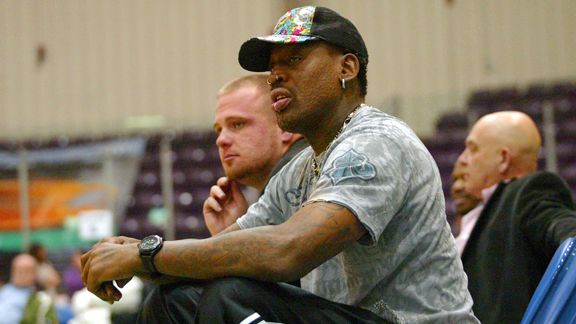 AP PhotoDennis Rodman is on a path of self-destruction and someone really needs to help him.
Once again, his name made headlines. This time it was sort of harmless: "Hampton partygoers get earful of Rodman sex."
The excuses are the same: "He was unaware of the microphone being turned on, [and] I do know he had a few drinks in him," his agent Darren Prince said.
A few? More sooner than later, Dennis Rodman is going to self-destruct. And we can predict the ending. His latest incident was at the Hotel Indigo in Hampton Bays when, after speaking to the crowd, he took six women to his bedroom and "accidentally" left his cordless mic on. He then graphically described what he planned to do with each of the women.
Seriously, all jokes aside, at some point this Dennis Being Dennis "thing" has to be stopped. Not for the sake of harm to somebody else, but of possible harm to himself. His act just isn't cute anymore. It's siding toward dangerous.
Going from "Celebrity Mole" to "Celebrity Championship Wrestling" to collect a check is no way for a self-deprecating wanna-be Hall-of-Famer to flame-out. Even for him there's a better, less nauseating way to enjoy retirement.
The drinking, drugs, women, men, partying and straight-not-giving-a-damn about life lifestyle is soon going to have a tragic end. Everyone knows it; everyone sees it coming; no one is doing anything to stop it.
At some point, at the pace Rodman is going, someone has to really help or talk to him. Rodman doesn't get it. He never will. That's why someone has to step in. Or else the next headline we're going the read will more than likely be: "Dennis Rodman: DOA."