First things first: We at Page 2 love over-the-top touchdown celebrations. We love them creative, like the Sharpie Incident. We love them obnoxious, like a fake mooning. We love them clichéd, like the Lambeau Leap. We even love them planned and contrived, like anything Ochocinco. In fact, there's only one type of touchdown celebration we don't love.
A botched one.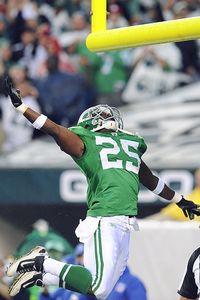 AP Photo/Miles KennedyEagles running back LeSean McCoy learns that it's difficult to dunk in a highly pressurized game situation.
During Sunday's Philadelphia-Green Bay game, Eagles running back LeSean McCoy scored a touchdown, then attempted to slam dunk the football over the crossbar. Only he was stuffed by the rim. No, no, a thousand times no. Nonchalantly hand the ball to the ref? Sure. Break out the line dance from "Thriller"? Fine by us. Do whatever you want. We're with you, happy football players.
Just make sure you actually can pull it off.
McCoy is listed at 5-foot-10. Not exactly Harold Carmichael-esque. Unlike Roger Clemens, he probably hasn't cross-trained in the delicate, complex art of slam-dunking a football. So even if McCoy can throw down, he probably can't reliably manage a one-handed crossbar jam, particularly in a pressurized game situation. Which means he shouldn't have bothered in the first place.
Ever been stuffed by the rim? We have. Many times. It's not just discouraging; it's a total buzzkill, a reminder that not only are you unable to fly, you're not even good at faking it.
Look, football can be a brutal game. (See the Eagles' Kevin Kolb and Stewart Bradley suffering concussions against the Packers, only to be reinserted into the game.) It can be boring, too. (See the Cowboys throwing approximately 723 wide receiver screens for no gain against the Redskins.) Either way, the sport is a lot like life -- incessant, ambiguous drudgery, interrupted by fleeting moments of undiluted triumph, moments that should be milked and enjoyed to the fullest.
Transcendence makes touchdowns special. When McCoy scored, he reminded us what can sometimes be; when he doinked his dunk attempt, he reminded us what usually is. Next time, don't spoil the magic. Settle for a stylish lay-up.