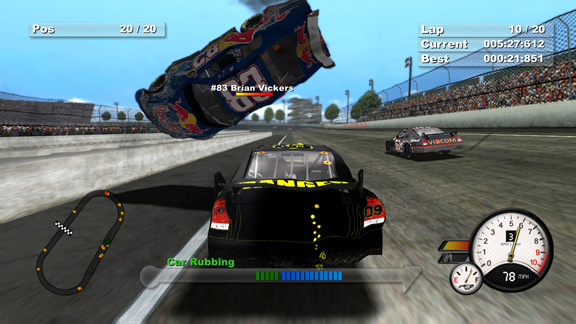 Paramount"Days of Thunder" captures all of the spectacular crashes that you remember from the movie.
When I think back to my favorite cheesy sports movies, one scene from "Days of Thunder" always comes to mind -- Tom Cruise racing his rival through hospital hallways in wheelchairs. Fun scene, fun movie, and for a kid who grew up in San Francisco, "Days of Thunder" was really one of my first tastes of what NASCAR was all about.
Now, 20 years later, Paramount is releasing a slick new racing game based off the film that not only includes the characters from "Days of Thunder" like Cole Trickle, Rowdy Burns and Russ Wheeler, but also some of the top drivers from NASCAR including Carl Edwards, Jimmie Johnson, and Tony Stewart.
It's the game's incredible sense of speed, however, that will leave fans breathless as they accelerate through turns, trading paint with Stewart while Russ Wheeler blows past both of you on the outside.
Only thing missing is the ability to race in wheelchairs.
"It's funny, the wheelchair race is something we should've put in the game," laughs producer Jeff Dickson. "Everybody always asks about that scene. It's weird how everybody remembers the film and those pivotal scenes. It's still in everybody's psyche."