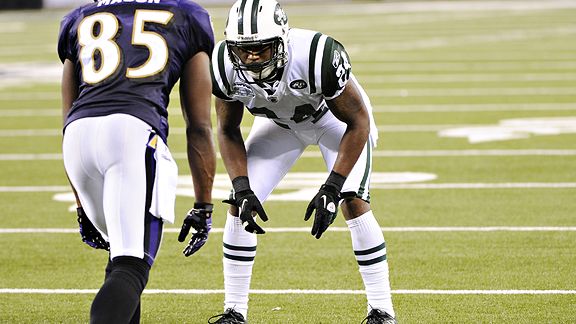 AP Photo/Bill KostrounNew York's Darrelle Revis defends Baltimore's Derrick Mason during the third quarter Monday.
One thing became clear Monday night -- Revis Island will be cozier than ever this season. After Antonio Cromartie played Charles Dimry to Revis' Deion Sanders, throwing on No. 24 would be like pitching to Albert Pujols with Yadier Molina on deck.
So how will Darelle Revis pass the time until the bye week while the action takes place across the field? By making conversation with some of the NFL's best receivers, of course.
Week 2, Randy Moss. "Man, had I just held out one game, they would have paid me Brady money! But enough about me, how's your contract looking?"
Week 3, Brandon Marshall. "You're new. What happened to the skinny dude who couldn't catch?"
Week 4, Lee Evans. "You know that quarterback couldn't get you the ball if you were wide open. I'll go easy if you do."
Week 5, Bernard Berrian. "All business today. 'Cause if Favre's not crazy enough to throw over here, no one will."
Week 6, Brandon Lloyd. "Somebody once traded for you, but I had to hold out? I need your agent's number."