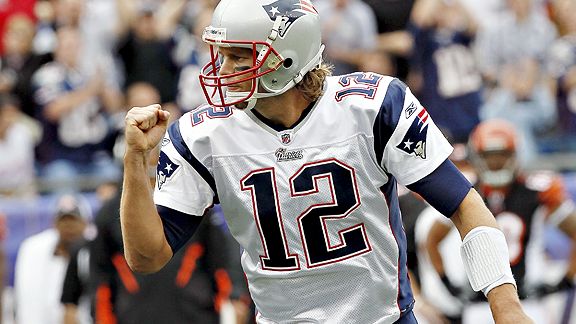 Jim Rogash/Getty ImagesRest easy everyone, Tom Brady has enough money for his mortgage now.
Tom Brady joined Dennis and Callahan on WEEI in Boston to discuss Randy Moss, his new contract, Wes Welker how he can't complain about the rules.
On Moss' contract situation and whether Brady could play a role in negotiations:
"Sure, yeah, and we have talked about playing together in the future. I've told them the way I've felt. I'm telling you, every quarterback in the league would want him on the team. So he's a great player, he's a dominant player. He made some big plays yesterday. We had a couple of others that we were trying to get to him. Like I said, the pressure can't always be on him on our offense, on Wes and on Randy, then it's not a very good offense. I was really impressed yesterday that, when they were covering those two, we were able to get the ball to the other guys. I think that's what makes a great offense. And then Randy's able to, when he starts getting those one-on-one matchups, then we're really able to take advantage of those. But he had a great game yesterday and we're going to need a lot more from him. And I'm expecting that, too."
On relief over a new contract:
"To tell you the truth, I overspent on a house about a year ago. So I took a big, deep sigh of relief that I could actually pay for the house now. But no, I didn't do much. Believe me, it's a huge relief, really just because without a contract you really don't know where your going to be in four or five months. And you always say, well, there's the franchise tag and there's this, but no one knows if there's a franchise tag next year. No one knows that at all, franchise tags don't work out so often. You can make all these assumptions about, you know, 'Oh, don't worry, he'll be here.' Well, you never know. And that's part of a lot of conversations I had with my family, and my wife, because I just don't know. I really don't. To actually know where I'm going to be, that's a huge relief more than the financial security. To know that my kids can go to school here, my wife and I love it here. There's no place we wanted to go, and I think that's the best part about it, just having the understanding that this is our home, this is where we are going to be."
On Wes Welker's quick return:
"Wes is awesome, man. Believe me, I've seen a lot of him over the last seven months and nothing he has done hasn't surprised me. I guess yesterday I was less surprised because I've seen it and he just feels like his normal self. His attitude, his confidence in himself, his ability to put the same injury that a lot of guys go through that takes them a long time, he's able to just put it out of his head and go out there and have a great game. He always impresses me, and you're right, it was a huge day for him and it was great to see him. We have a great group of receivers. Wes and Randy, that's a pretty great tandem between the two of them."
On going through progressions on every play:
"Eventually you go through all five. I mean, you don't have time to drop back and look through five, I think before the the snap of the ball you've got to eliminate a couple of them. I'd say when you break the huddle everybody's alive. You know, when the ball's snapped, you probably got three, sometimes at the max four, but you're not going to see five. Based on a coverage you're never going to have five, you're very rarely going to have five guys open on a route either. You really might only have one guy open."
And on the Calvin Johnson play from the Lions-Bears game:
"I saw that, and that's a tough call. That's a tough call. I know what the rules are, and they have to have definitive rules. I think when you go down with the ball, you just got to hold on to it when you hit the ground. It's been in place for a while now. So, I'm never one to bitch about the rules, because the tuck rule, that kind of got us a Super Bowl."
• Click here for a transcript of highlights from the interview