Yes, yes -- she's the same girl who once dated former Arizona Cardinals quarterback Matt Leinart. And because she was a supportive girlfriend, she was in the stands rooting for her man to win.
But normally? The singer and actress is much more comfortable being center stage. Aly Michalka is starring in a new CW series, "Hellcats" (it airs Wednesday nights at 9 p.m.), that gives us an inside look into the world of competitive cheerleading. On this new series -- it just debuted last week -- she's playing a rebel cheerleader who's new to the squad and realizes that being a cheerleader isn't just about wearing cute midriff tops.
Michalka chats with us about the role, how she became a football expert and why she still roots for the Cardinals.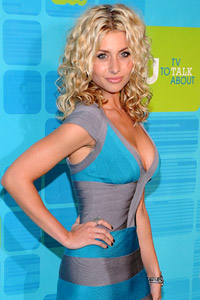 Jason Kempin/Getty ImagesAly Michalka says her newfound knowledge of football could "help me with future dudes."
Were you an athlete before? Because this is a really physical role.
"I've been kickboxing and I have a personal trainer, Larry Crystal, that I work with out here in LA and I do martial arts with him. I work out four to five days out of the week, so going into this role I didn't really change anything too crazy about what I did exercise-wise."
Where did you fall before you got this role -- did you think that cheerleaders are athletes or were you not sure?
"I wasn't so sure, I definitely don't want to say that I thought, 'Oh no, they're not athletes.' But I definitely would not have been like, 'Yes they 100 percent are.' I think that I was kind of on the fence about it. I don't think I ever really thought about it, but now going to these competitions and now being a part of squad, you know, on our show, and talking to these girls and watching them do these stunts and these dangerous backflips and tumbling passes, it's really changed my perspective. I definitely think they are athletes, and they're not only athletes, but they're a great example to women and men that teamwork is really going to make you a well-rounded person."
What's surprised you the most about the life of a competitive cheerleader?
"I didn't know that it was that common to get hurt. I actually got hurt in the pilot; I twisted my ankle really bad on my left foot. I was doing a form of a stunt and that's when I realized, 'Oh wow. That's why we have doubles!'