The folks that compute Q scores have determined that, post-"The Decision," LeBron James is 77 percent more hated than he was before, according to a CNBC report. Thirty-nine percent of Americans view LeBron unfavorably, compared to just 22 percent in January.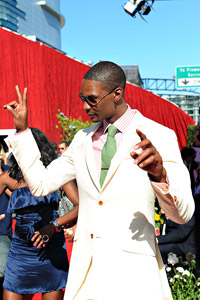 Scott Clarke/ESPNChris Bosh soaked up the spotlight -- and apparently the dislike -- this offseason.
But much more interesting is the change in Chris Bosh's score. In January, 21 percent of the population viewed him unfavorably, and that's now up to 35 percent.
That begs one question: who are these people that hated Chris Bosh? Was it the hair? Is that why he cut his dreadlocks?
We've all got the right to hate what we want, but I can't think of an NBA player that generates less of a reaction from me than Chris Bosh. Even his game is effective but unmemorable. He's just & Chris Bosh. Plus, he did those goofy promo videos for All-Star votes, which I thought everyone found amusing.
I can see disliking him now. None of Miami's heralded trio has courted stardom like Bosh, who's trying to follow Lamar Odom's third banana-turned-C-list-star example. But before? That's like complaining about the taste of bottled water.
But it seems Bosh was a bigger star in Toronto than anyone realized. Sure, many have viewed him negatively, but who even thought that many people knew who he was?