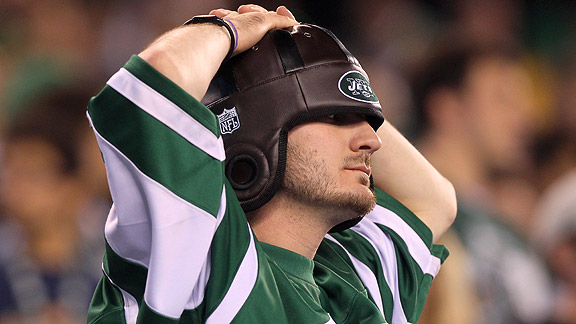 Jim McIsaac/Getty ImagesPage 2 readers say the New York Jets should start panicking already.
See the big red button?
Go ahead, push it.
That would be the panic button -- and the urge to push it can be found everywhere in collegiate and pro football despite being so early in the season. In fact, this is when the panic is the worst -- because soon all chances will be gone and panic will be replaced by the numbness of defeat. Teammate Dave Fleming looked at the NFL, and I opened up my thinking to anything.
So take the Atlantic Coast Conference -- please. The woeful ACC is 0-5 already in games against other BCS-conference schools. And there's Virginia Tech -- losing to James Madison, which is in a universe far, far away from the BCS.
Should the ACC push the button?
Not yet, they would have you believe.
Florida State got destroyed by Oklahoma but here is the clever take of FSU quarterback Christian Ponder: "Conference play is a lot different."
That's the ticket. Once ACC teams start playing each other, some of them must win.
Still, you are harsh judges, and we asked you to create a list of persons and places who have no reason to wait. Who should go ahead and push the button now? You made your picks.
Top 10 Sports Persons and Places Who Need To Panic Now
10. The entire ACC -- "We went from five ranked teams to one in a week but, hey, Dallas, at least none of us have lost to the Redskins," wrote Ben A., sophomore, North Carolina State.