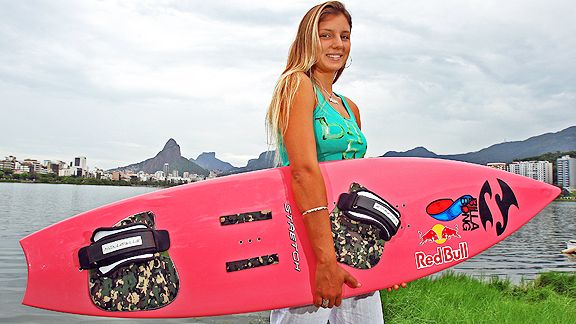 Ivo Gonzalez/Globo/Getty ImagesBrazilian surfer Maya Gabeira is checking out the surfing on the East Coast this week.
Maya Gabeira grew up on the beaches of Brazil, but this month, she'll be hanging ten in the Atlantic.
Yep, you read that right.
Gabeira, an ESPYS winner and one of the most successful female surfers in the world, will ride her pink surfboard off the best beaches the East Coast has to offer while spreading the "Aloha spirit" she has come to love.
"I have actually never surfed on the East Coast before, but I've met great surfers from the region," Gabeira said. "I know the East Coast recently had a great week of surfing because of the two recent hurricane activities. I'm really excited to go and surf a part of the country I have never surfed before."
Gabeira will pair with Carissa Moore, who won a record 11 National Scholastic Surfing Association titles and is now part of the world tour, for the Carissa and Maya Project. Moore has been shredding swells in New Jersey while Gabeira's been doing the same in the New York since Sept. 10. The tour ends Sunday.
The goal of the event, sponsored by Red Bull, is to bring the West Coast surfing culture east. Gabeira wants to impress as well as educate. She is, after all, at 23, living proof that surfing can pay the bills.
"Surfers can go the competition route and try to make it to the world tour … and compete," she said. "They make a living from shooting amazing footage and doing photos for magazines and appearing in films. And, of course there is also the big-waves world. We chase storms to the most dangerous waves in the world and document them. "