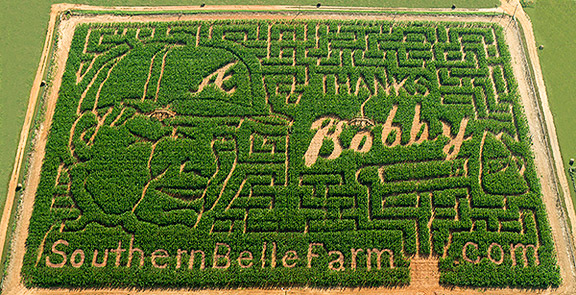 Courtesy of Southern Belle FarmsSouthern Belle Farms' corny tribute to Atlanta Braves manager Bobby Cox.
For a mere $12, you can go up Bobby Cox's nose and pick your way out.
The face of the Atlanta Braves' manager, carved into a corn maze on a farm in McDonough, Ga., just south of Atlanta, will be open to the public beginning Saturday.
"You can get lost in his nose," said Jake Carter of Southern Belle Farms. "There are a lot of little places in his face you can get lost in."
The seven-acre maze pays tribute to baseball's longest-tenured manager, who plans to retire after this season. Cox led the Braves to a World Series championship in 1995 and holds Major League Baseball's record with 157 ejections.
Rookies can start with the kiddie entrance. The intermediate maze is like being in the minors. Then there's The Show -- the advanced maze.
"You can choose on his face which way you want to go," said Carter, whose sports highlight before now was serving as long snapper for the University of Georgia's 2002 Sugar Bowl team.
While the Braves, who as of Wednesday afternoon were 2½ games behind Philadelphia in the National League East, look for a way into the division playoffs, the farm hopes fans will take part in a corny commemoration also inspired, in part, by "Field of Dreams."
As the corn grew this summer, Southern Belle farmers -- including Jake's dad, Jimmy Carter (no relation to the former president) -- looked out in the moonlight and hoped that if they built it &
"Teenagers will come," Carter said. "They get in trouble throwing ears of corn and just being teenagers."
And that's when the agricultural visage of Bobby Cox holds sway.
"For safety reasons," Carter said, "You can get ejected."