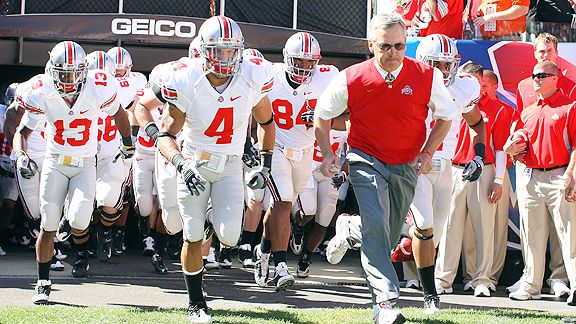 Matthew Emmons/US PresswireJim Tressel is educating his players to get what they want ... which is pretty much a job in the NFL.
Buckeyes coach Jim Tressel joined The Dan Patrick Show to discuss his thoughts on the sweater vests, preparing college players for the NFL, using Reggie Bush as a cautionary tale and his feelings on non-conference scheduling.
On the last sweater vest that he received as a gift:
"It was two years ago from my nephew, who is the linebacker coach and special teams coordinator at Michigan State. He gave me a green Michigan State sweater vest for Christmas. I have it in my closet. I haven't figured out when that moment will be when I get to wear it."
On whether his job is to get players ready for the NFL:
"You know, my job, I think, is to help our guys get ready for later in life and not just from an athletic standpoint. In some guys' cases, the NFL is part of, perhaps, some of their future. And so yeah, I would say the answer to that is yes. I know that's one of [Terrelle Pryor's] goals. We talk all the time about goals whether they're inside or outside football. That's certainly one of his goals."
On whether he uses Reggie Bush as a cautionary tale:
"Not specifically. That one is so publicized that they'll probably hear and read and so forth about that one many times. ... [We have those conversations] long before the Reggie Bush thing. That's ongoing. We have compliance education and agent education and casual conversation. It's real, because when you get into those high-profile situations like ours and USC's and so forth, you feel somewhat helpless outside of the counseling you can do."
On non-conference scheduling:
"I think what it means to your season is what's most important. If you have one of those September matchups that you know you're going to have to be at the top, top of your game, at least to the point you can be in September, I think that helps your preparation. It certainly helps your reality, because once that game's over, whether you won or you lost, there are certain realities. And then, I think it gets you better prepared for your conference because you know a little bit more about yourselves. ... In terms of the BCS, some could argue that it could knock you out of the BCS. I don't know that that's true. It could ... but you always talk risk versus reward and we think there's a lot more reward than there is risk."
• Click here for a transcript of highlights from the interview