Compiling these All-Name Teams is even more fun than it seems. Though the time spent is seldom short, it normally qualifies as sport.
OK. We can't write poetry, but thankfully, others can. And in their honor, we present the All-Verse Team.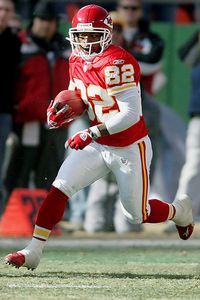 Tim Umphrey/Getty ImagesDante Hall was poetry in motion for Kansas City in 2003.
Daniel Bard: The flame-throwing Boston Red Sox reliever, author of 129 strikeouts in his first 117 innings in the Majors, might be best summed up by the Bard of Avon's "Romeo and Juliet," as his "speedy help doth lend redress" in trying circumstances. Had Bard been in Boston for the Manny Ramirez years, he might have been tempted to drop this line on the mercurial outfielder from "The Merry Wives of Windsor": "Thou art the Mars of malcontents."
Tom Browning: On Sept. 16, 1988, the Cincinnati Reds lefty was probably channeling the spirit of Elizabeth Barrett Browning, who once wrote to husband Robert Browning, "In every one point, every word and gesture, every letter, every silence, you have been entirely perfect to me." Tom Browning tossed a perfect game in Los Angeles against the Dodgers, who would be World Champions a month later. If not always perfect, the pitcher did have a fondness for neat numbers; he struck out 1,000 batters and started 300 games in his career.
Gosder Cherilus: The Detroit Lions' offensive tackle bears the last name of a Greek poet whose works often feted Athenian military victories. Legend has it that Cherilus' fellow citizens were so pleased with one such poem that they gave him a gold coin for every verse. Sadly for the Lion in autumn, there haven't been many occasions for that kind of revelry lately.