Arian Foster is mystifying even his teammates with his newly-adopted bowing-in-the-end zone act.
"I don't know if it's from the Chinese or the Egyptians," Texans fullback Vonta Leach said.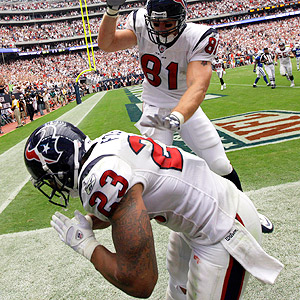 AP Photo/David J. PhillipTexans running back Arian Foster bows to the crowd as Owen Daniels celebrates.
Actually, it's derived from Hindu or Indian and Nepal origins. It's something the second-year undrafted running back out of Tennessee, relegated to the practice squad most of last year, came up with in the off-season.
"I feel like every running back should have their own little stamp on the game," said Foster, whose troubled adolescent days shifted from Albuquerque to San Diego before an up-and-down college career at Tennessee.
"Mine stems from the core or what I believe," he said. "It's a Namaste. It means respect. It just means, 'I see the God in you.' It's me paying my respect to the game of football."
A philosophy major in college, Foster learned respect quickly last year. That was evident the first few days of training camp when, despite his purposeful running, position coach Chick Harris didn't give him much of a chance. After Houston's running game muddled throughout the season, Foster was pressed into action in the last two games when he ran for 216 yards and three touchdowns.
This year, he bowed to the football world in a big way after busting out for a franchise-record 231 yards and three TDs in a season-opening win over the Colts. After each touchdown, he paid his respects with a bow.