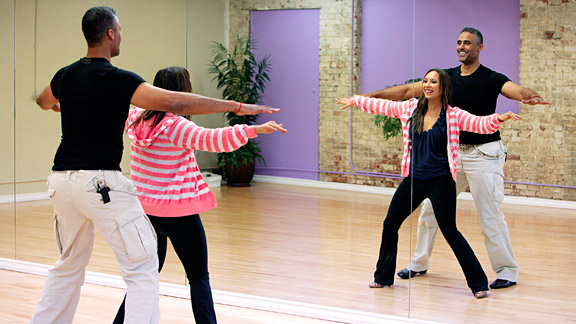 ABC/Greg ZabilskiRick Fox works out with two-time champion Cheryl Burke for "Dancing with the Stars".
Retired NBA player Rick Fox thinks it's not fair that people expect him to do well in the 11th season of ABC's "Dancing with the Stars," which begins Monday night.
Yes, athletes have done well in the past. NFL Hall of Famer Emmitt Smith, IndyCar driver Helio Castroneves and Olympic gold medalists Apolo Anton Ohno, Kristi Yamaguchi and Shawn Johnson all have won.
But Fox would prefer to be compared to the other athlete -- future NFL Hall of Famer Kurt Warner -- in this fall's edition of the top-five-rated show.
"All the pressure should be on Kurt. The football players have represented themselves well on this show," said Fox, who has been acting since retiring from the NBA in 2004. "But basketball? Come on. Did you see Clyde Drexler dance in 2007? Ugh."
The real favorites will be Jennifer Grey, who rose to fame starring in "Dirty Dancing," and singer Brandy, who has done a lot of dancing in her music videos.
Brandy is downplaying being considered one of the favorites.
"Dancing is never one of my strongest points. I'm pigeon-toed naturally," she said. "My posture is off. I'm really nervous. All this stuff is new to me."
Fox laughed at Brandy, saying: "I'm the one pigeon-toed. You should be voting for me. I have one week to prove to the world I can dance. Help me!"
Here's a look at this fall's competitors:
Michael Bolton: The love-song guru of the 1990s didn't do much dancing in his music videos, save some tame back-and-forth swaying. Bolton, 57, will be dancing with Chelsie Hightower, the 21-year-old who, through three seasons on the show, has never danced with a top-three competitor.