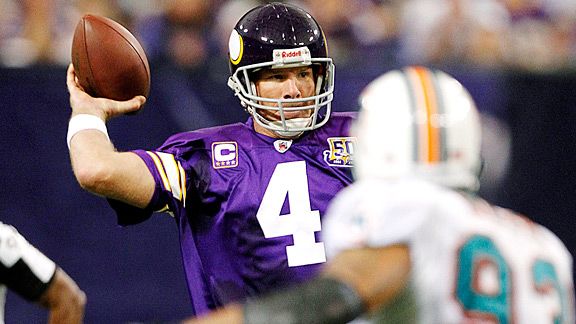 AP Photo/Andy King7575Minnesota's Brett Favre had a horrible Sunday, so we're asking you what's in his head today?
Oh boy, what do you think is going through Brett Favre's mind right now?
That's going to be our Top 10 question this week. When Favre decided that he was going to return to Minnesota for one more season, he had to realize that opening in New Orleans against the NFL champion Saints was not going to be as easy task. So that loss, while disappointing, could not have been shocking.
But this one? The home opener? Miami 14, Minnesota 10? And Favre was intercepted three times plus he lost an end zone fumble that turned into a Dolphin touchdown? Put all that together and it adds up to his worst day as a Viking with a passing rating of 44.3, a number JaMarcus Russell would laugh at.
The Vikings are 0-2, which is an extremely poor plan for returning to the playoffs. How does retirement sound now?
"One of the biggest reasons I wanted to not play [this year] was dealing with the losses," Favre said after the game.
Well, he's had a night to sleep on it. And we want to know what you think is going through his mind. That's going to be our list this week: "Top Ten Things Brett Favre Is Thinking Right Now."
Send your best answers to osogreene@aol.com. As always, please include your first name, initial of your last name and your location. That way if one of your thoughts is part of the Top Ten list on Thursday, you will get your moment of fame.
What will Brett Favre get out it? Let's find out.