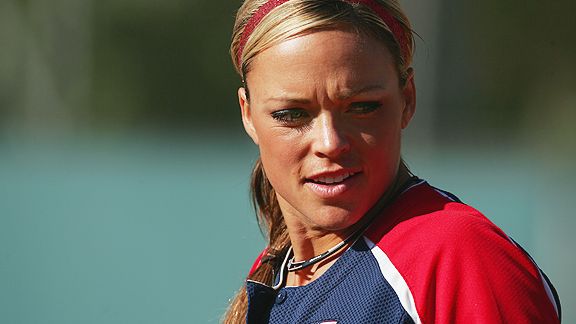 Robert Laberge/Getty ImagesJennie Finch is the face of softball to many, but the two-time Olympian is retiring from competition.
To many sports fans, Jennie Finch is the face of softball.
After all, she's won a gold and silver medal in the Olympics. She's won the World Cup, world championships and Pan-Am Games multiple times each. She captured an NCAA championship and won 119 games -- including 60 in a row -- as a pitcher at Arizona.
Perhaps most importantly, she was also the first winner of Page 2's "Hottest Female Athlete" contest in 2003.
Finch, 30, was in the news this summer for announcing her retirement from competition and also pitching in the celebrity softball event at the MLB All-Star Game -- where she allowed a home run to ... wait for it ... MC Hammer.
Ouch. That would send us unflinchingly into retirement, too.
Page 2 caught up with Finch, who's married to pitcher Casey Daigle, on her recent visit to ESPN and talked about retirement, competition, her alma mater and, yes, MC Hammer. Here's what transpired:
How do you expect your life will change in retirement?
I'm looking forward to the next phase of my life. ... I've got clinics and speaking engagements for the next three or four months. So it's going to be busy, which is a good thing. I'll just try and maintain that business. I run my own camps and clinics nationwide, and that's been amazing to see it develop. That's my passion. I love being out there with young softball players, and hopefully inspiring them and sharing my love and passion for the game. I'm looking forward to running that and building that.
What will you miss most about competing?
The camaraderie, for sure, and being surrounded by 15 other amazing women and traveling the world with them. The good thing is that we stay in touch, because there are relationships that go way beyond the playing field. There's something about striving for one goal together as one and all the crazy places you travel. Those experiences are unforgettable.