It's no coincidence that Boris Kodjoe, 37, plays athletes in almost every role that he takes on.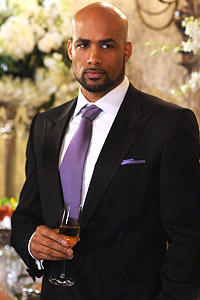 Richard Foreman/NBCU Photo Bank/AP Images)Boris Kodjoe plays an former CIA spy who's called back into action on the new J.J. Abrams show, "Undercovers."
A former athlete himself, Kodjoe -- he grew up in Vienna, Austria -- came to the United States in the '90s on a tennis scholarship at Virginia Commonwealth University. Back then, he didn't speak a word of English, and learned the language on the tennis courts. A four year letterman with 75 career singles wins on the men's tennis team, he wasn't too shabby.
Still, it was a nasty back injury that forced him to give up his dream of playing professionally; instead, he decided instead to focus on modeling and acting. He still sneaks some tennis in, playing with superstar tennis players (and good friends) Serena Williams and Boris Becker.
On Wednesday (at 8 p.m. EST), he heads to network TV in J.J. Abrams' "Undercovers," where he plays Steven Bloom, a former athlete who's an ex-spy that gets called back to duty.
So you came here to the states on a tennis scholarship …
"I grew up playing tennis. When I was like three years-old, that was all I wanted to do and I had my sights set on playing professional, and when I was 18 I got injured. I hurt my back and took a long break and after that, I decided to go to college, came here, went to VCU in Virginia, got my degree and stuck around a little bit."