Every single NBA player will have a new uniform number this season.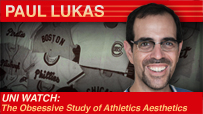 Sort of.
The league and its uniform outfitter, adidas, are holding a press conference Wednesday to announce a new uniform system, called the NBA Revolution 30, which will be worn by all NBA teams this season. And one facet of the new systsem is that all the uni numbers will now be made of mesh instead of the old tackle twill, a move designed to make the uniform lighter and more breathable.
As you can see in this press release and this fact sheet, the Revolution 30 has all the usual bells and whistles we're used to hearing about new uniforms: 30% lighter, dries twice as fast, yadda-yadda-yadda. But will the new uniforms look any different?
The answer: They won't look radically different, but the trained eye will notice a few changes (like those mesh numbers). But don't worry, Uni Watch is on the case -- I'll have further details on the unveiling event later Wednesday on the Page 2 Blog, along with a full-length Uni Watch column treatment Thursday. See you then.