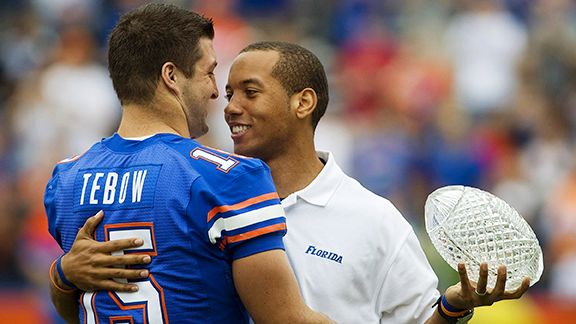 AP Photo/Phil SandlinChris Leak and Tim Tebow both won national titles at Florida.
Quick -- who was the starting quarterback for the Florida Gators during their 2006 national championship run?
No, it wasn't Tim Tebow -- that team's starting quarterback was Chris Leak. A high school wunderkind out of Charlotte, Leak steered the '06 Gators to a 13-1 season that culminated in a 41-14 thrashing of Ohio State for the national crown.
While Tebow's now in the NFL as a rookie in Denver, Leak is a backup in the Canadian Football League for the defending Grey Cup-champion Montreal Alouettes.
"It's a definite culture shock, but you come to appreciate learning different cultures," Leak said. "You get used to it and you embrace it."
Leak's CFL experience has been checkered -- after league legend Anthony Calvillo, 38, went out with a sternum injury last month, Leak guided the Alouettes to a 39-17 victory over the Winnipeg Blue Bombers. But he struggled in his first pro start against the B.C. Lions and the Alouettes lost 38-17. Calvillo's return became a hotly anticipated topic in Montreal's sports media.
Leak has heard fans shout someone else's number before. In the Swamp during his senior season, the crowd booed Urban Meyer for not handing the offense over to Tebow, something Leak downplays.
"I've enjoyed every minute of being a Gator," Leak said. "I've always felt appreciated by the Gator Nation and that will never change."