Steve Wiebe's algebra class isn't going to be happy.
The Finn Hill Junior High teacher in Kirkland, Wash. has just come up with a new assignment. He has no idea how many hours he's devoted to the arcade game Donkey Kong, but has a plan to find out.
"I'm afraid to even think about how much time. I'd imagine it's approaching a year," Wiebe said. "That would be a fun assignment for my students. I'll give them the number of hours a day, and if I've done that for 30 years, see if they can figure it out."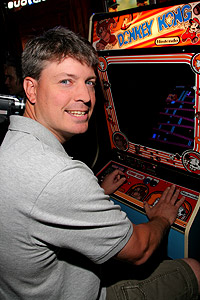 Kevin Parry/WireImageSteve Wiebe reclaimed the Donkey Kong world record on Aug. 30 by scoring 1,064,500 points.
All that time has been worth it though for the married father of two. Wiebe reclaimed the Donkey Kong world record on Aug. 30 by scoring 1,064,500 points during a two-and-half-hour game.
Wiebe, the subject of the 2007 documentary King of Kong, which followed his quest to take the title away from legendary gamer Billy Mitchell, last held the record three years ago. Mitchell took it back, then lost it briefly to Hank Chien earlier this year before regaining the record in July. Wiebe spent the entire summer trying to take back the title.
"It was a relief because the last day of summer is when I broke it," Wiebe said. "The next day I was going back to school."
With classes in session, Wiebe is taking some time away from the game to enjoy his achievement. He knows the number won't hold up forever, though. Between Mitchell, Chien and a host of other competitors, he estimates that it could come down in anywhere from a month to a year.
But these million-point efforts don't come easy. Consider that the game's hero, Mario, gets just 100 points for jumping over barrels thrown by Donkey Kong and 500 for smashing them with a hammer as he goes through the platforms trying to rescue a damsel in distress. And there are only 22 levels in the entire game.
So just how much higher can Donkey Kong scores go?
"There's a theoretical max that I would put at about 1.2 million (points) if everything went in your favor," Wiebe said. "Realistically, I'd say 1.15 million though."
Since Wiebe doesn't plan to hang up the game anytime soon, he'll probably get there one day.
"I'm pretty sure I'll never completely stop playing. And I'm sure Billy won't ever either," Wiebe said. "It's kind of funny. We'll be in our 80s still trying to get the record."