MIAMI BEACH, Fla. -- I went to see Muhammad Ali on Thursday night, and hours later I'm still struggling with the profound sadness of the evening. I'm not sure if other people felt it as strongly as I did, but I walked out of the 5th Street Gym in a daze.
Arriving at the party, I wasn't sure what I'd find. I'd heard he has good days and bad days. I know he loves children and still likes to laugh. Maybe he'd be feeling warm and nostalgic.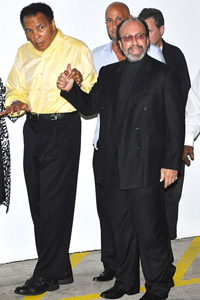 AP PhotoMuhammad Ali arrives at the ceremony reopening the 5th Street Gym in Miami Beach, Fla.
The occasion was a joyous one. Ali's old trainer, Angelo Dundee, was reopening his famous gym and Ali agreed to attend the celebration. I wanted to see him for lots of reasons. Part of it was a "bucket list" sort of deal. But I also wanted a glimpse of the old Ali. Does that person still exist? If you're in the room with him, can you still feel the spark?
Hundreds of people packed into the gym. We were all pouring sweat. Entire shirts, drenched. There was no air conditioning. Every so often, folks stepped out into the muggy Miami night to cool off. While they waited, people talked among themselves about wanting to see Ali. They talked about him like he was the Eiffel Tower or the Grand Canyon. He's an attraction. Something to see, not to be moved by the experience, but to check it off. I saw my own motives reflected in the people around me, and it made me feel guilty.
A few old friends and lots of boxing people came, but much of the crowd was there to worship in the church of celebrity. The altar was set: velvet rope outside with a guest list and VIP badges, a deejay inside, party girls in tight dresses and trendy shoes. A man dressed as a gaucho served meat. The bartenders looked dressed for the midnight shift at the Tropicana. The only thing missing was bottle service. The whole event felt like a South Beach club opening.
I slid out the door to get a break. On the street, I saw Bert Sugar, the famous old boxing writer. He wore a seersucker jacket and smoked a thick cigar. He looked at the new gym, and at the Wachovia bank next door, where the original stood until they knocked it down.
I asked Sugar if it made him sad to see Ali.
"No," he says.
He said seeing Ali makes him think about him how fast the world moves. Everyone from that time is old or gone. Nothing reminds him more of his vanished youth than seeing Ali struggle. When they were kings, indeed.
"We were young with Ali," he says.