The baseball postseason isn't even here and the folks at Topps are already looking forward to next year.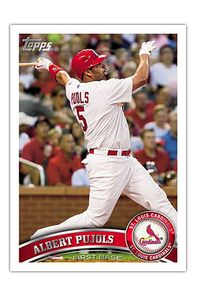 toppsTopps prepares for 2011, and here's a card for Albert Pujols.
No, that's not some statement of overconfidence coming from the longest-running manufacturer of baseball cards acting like a team matched up against some cupcake. It's a reality.
It's a reality in that the company has already unveiled the first sneak peeks at its 2011 baseball card set, which is already in production with a targeted release of February.
Why such an early focus? Well it's actually the norm these days, but next year's set is going to be anything but the ordinary for the company as the 2011 set will celebrate Topps' 60th anniversary of making trading cards for Major League Baseball.
The company's plans for its diamond anniversary on the diamond are still a bit hush-hush, but it did release some images of what next year's cards will look. While the basic card design can be seen here, other cards in the set will include autographed cards where players add a congratulatory "happy anniversary" inscription, reprints of notable cards from the past and even some obviously nicknamed sets like Diamond Duos, featuring stars from today.